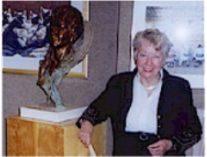 On a small idyllic island called Shelter, nestled between the forks of Eastern Long Island N.Y., lives,
   PEGGY  MACH....


Known and collected by the great and talented around the world, PEGGY MACH'S  Sculptures celebrate the little moments in life that create the memories and  feelings each of us carries deep inside, and also the deeply spiritual, as represented by such commissions as the "Risen Christ "in St.Mary's Church in Greenwich CT or "St.Augustine and student" at Villanova University in Pennsylvania. Of her work, Philipe Hallsman the legendary Life Magazine photographer, said: "Her works shine with a light from within". Whether embracing great spiritual themes or life's quiet, deceptively simple moments, Peggy Mach's sculptures touch a uniquely human chord in all who see them.

PEGGY MACH, the untiring celebrant of life and inveterate perfectionist, works in very small editions, sometimes as little as seven pieces. Unlike many in the Art World today, she creates without assistants. Her hands are the only ones to touch the clay, or carve the stone and she is involved in every single process, every step of the way until you, the new caretaker of these reflections of her soul , take over.

Casting her bronze creations using the ancient Lost Wax Method, a tedious six step process, she personally watches over each step, adjusting, correcting, refining and re-judging every sculpture produced until she is satisfied it is perfect. Even the negative molds involved in each sculpture are destroyed during the casting, thereby requiring new ones to be made for the next piece in the edition, so in truth each is an original, lovingly re-produced by its creator.

Who collects PEGGY MACH?.... The movers and shakers of the world for whom her work reveals the powerful emotions of responsibility and humanity as well as the deepest hidden vulnerabilities the rest of the world never sees. People like former head of the CIA William Casey. former Governor of New York Hugh Carey, former Postmaster General of the United States Winton M. Blount, or Super-builder John Tishmen, who takes her sculpture with him as he travels about to each of his homes. The artistically talented who instantly recognize her power to be entertaining and ebullient about the wonder of life, such as world famous singer Robert Goulet. Great surgeons and doctors who find her work introspective, profound and calming as they struggle with their life and death decisions. And ordinary everyday people to whom her work glows with the reflections of secret joys only they thought they knew.

PEGGY MACH  won Best in Category and Best in Show in in the very first show she entered, and has continued to be a winner in every show entered since, whether judged by a jury of her peers or by the attending public, but most important her work wins the heart and soul of all that see it. It becomes part of your life.... something you need every day like a lover, a friend or a confidant, never merely a decoration, although they are beautiful and technically superb.

Lauded as Artist in Residence to Ireland, Peggy Mach's sculptures adorn universities, libraries, churches and the most discriminating private collections across three continents and Japan.

PEGGY MACH
LIVES EACH DAY TO CELEBRATE LOVE AND LIFE THROUGH HER WORK,

AND

GIVES US THE ABILITY TO TAKE THAT CELEBRATION WITH US, WHEREVER WE GO, SO THAT IT WARMS AND THRILLS US...... ALWAYS.

Commissions considered.